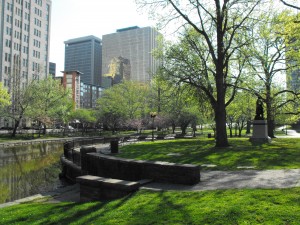 Social media is that challenge with which I grapple with daily in my quest to be relevant.  "Too much information" is my mantra as I link up to humor, rants and politics.  Yet every now and again I find a nugget like John Karras' Resources for Vibrant Cities blog on Urbanscale.com.
I'll admit that when I started reading through his 12 Strategies That Will Transform Your City's Downtown, my intent was to see how few of these strategies have been embraced by Hartford.  
To my ultimate surprise and delight we score extremely well on many of the biggest strategies, including:
#2: Establish a regularly occurring public event showcasing downtown merchants, music and food
Envisionfest and First Night Hartford  (celebrating 25 years mind you).  These only name two of many events found downtown.  Take the time to see how many you can name – better yet how many do you participate in annually?
#4:  Make under-utilized public land available for private sector development
Fingers crossed on a smart master plan to repurpose the land north of I-84 – can you say professional hockey……..?
#7: Open a downtown satellite campus of a local university

Hartford Has It! –  University of St. Joseph's School of Pharmacy, RPI,  Capital Community College and UCONN's Graduate Business Learning Center and the upcoming reuse of the Hartford Times Building for UCONN's Hartford campus (repeat after me: "Go Huskies!").
#9: Create an awesome downtown playground to make your downtown more kid-friendly and family-friendly
Bushnell Park (the oldest publicly-funded park in the nation) with its playground, antique carousel and Winterfest activities and the ever-expanding Riverfront Recapture.
Okay, you get the picture.  So my cynicism was promptly dispelled in the realization that much exists or is being planned for Hartford. 
Now I want to feel the vibe in vibrancy. Let's celebrate everything great in Hartford and support the plans currently in the works to make it greater.
 How does historic preservation play a role in contributing to the City's vibrancy?  As we reshape the Hartford Preservation Alliance we want your ideas –  how can HPA contribute, where can we collaborate, how can we be the best possible partner? Give us a shout out on Facebook, leave your comment below or send me an email frank@hartfordpreservation.org. 
Keep those cards and letters (and Facebook Likes) coming!